We adhere to the recognised TIA/EIA, EN and ISO/IEC design and installation standards for structured cabling systems. With over 2 decades of expertise in structured cabling, we are ready and competently certified to build the road for your IT vehicles. Our areas of specialization include commercial offices, buildings, banks, hospitals, warehouses, data centres, school campus, factory plants and marine ports.
Mossad Services builds on her cabling expertise to provide working sites with reliable installations and ease of management to IT managers and network administrators. Hard physical network cables are the most fundamental element of forming pathways of communications. Structured cabling is easily characterised by design & building of roads. Running your network application vehicles on a badly built road disrupts your business routines. A good structured cabling design relieves the IT manager from management of hassle, effectively saving time and costs over a business lifecycle.
Our Project Managers and Engineers are certified experienced designers and installers of IT Network Infrastructures. On site technical staffs are trained specialists in Copper, Fiber Optics and Coax installations, having wide exposure to many IT Infrastructure facilities.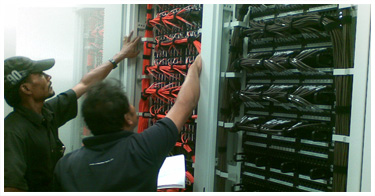 We are certified and authorised partners of ADC Krone, AMP Netconnect, Anixter, Belden, Commscope Systimax, Corning, NCS, Nexans and Panduit for Network Infrastructure Solutions.
Intelligent Infrastructure Management (IIM) of the physical infrastructures real-time offers many possibilities for organizations to employ a more effective pre-emptive approach to manage their networks, terminal devices, security surveillance & control, environmental monitoring, power, cooling, light and other facility control with high performance structured cabling systems. Benefits include early fault detections, central management, lowered manpower costs, simplified controls for different facilities that drive daily operations, detecting security breaches and reducing network downtime. In essence, IIM empowers you to manage change with minimal complications.
Choose your IIM empowerment tools from Systimax iPatch, Nexans LANsense or Panduit PanView System.